|
Metro Announcements Posts
Offline
You may receive (or have received) cans of hominy with a small amount of rust. These cans are safe to distribute. Please read to learn more!
We recently discovered light rust on a number of cans of hominy (Alfresco brand). This small amount of rust is the result of a manufacturing issue, and it is considered a cosmetic blemish, not a food safety issue.  We still have a full truckload of this product in our inventory, so you may continue to notice minor rust on cans you receive for a while. We are working with the vendor to ensure that future loads do not have this issue.
In general, cans with rust that can be wiped away with a finger…
Read more...
---
Offline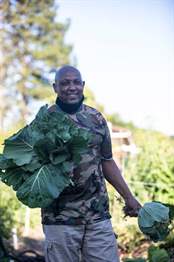 Ambassador Liban Satu
Applications for two Oregon Food Bank community food systems programs are now open!
Food Systems Ambassadors are leaders from culturally specific communities across Oregon who work on projects aimed to improve their community's access to food security resources, address root causes of hunger, and create engagement opportunities for a more inclusive democracy. Food Systems Ambassadors receive a $4,000 stipend over 15 months, and have $5,800 to fund their projects.…
Read more...
---
---