|
Food Systems Ambassador & FEAST Applications are Open!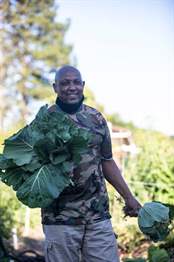 Ambassador Liban Satu
Applications for two Oregon Food Bank community food systems programs are now open!
Food Systems Ambassadors are leaders from culturally specific communities across Oregon who work on projects aimed to improve their community's access to food security resources, address root causes of hunger, and create engagement opportunities for a more inclusive democracy. Food Systems Ambassadors receive a $4,000 stipend over 15 months, and have $5,800 to fund their projects. Interested applicants should fill out this form or reach out to Devin Dinihanian (971-230-1666
, ddinihanian@oregonfoodbank.org ) and/or Carolina Negrón (971-223-3378
, cnegron@oregonfoodbank.org) di rectly. Applications due September 2, 2022.
FEAST(Food, Education, Agriculture, Solutions Together) Support Fund is a statewide grant program to support community conversations about food that lead to local action. Through this 15 month program, Oregon Food Bank supports local leadership teams to plan and hold FEAST conversations in their community. From those conversations, communities identify and lead projects that help strengthen their food system and build community food security. FEAST Support Fund grants are up to $5,000, with an additional $2,000 available to support leadership team participation. Interested applicants should fill out this form and/or contact Adriana Cvitkovic (971-223-3359
, acvitkovic@oregonfoodbank.org) directly. Applications due September 15, 2022.
 Both programs give preference to immigrant and refugee communities, Black, Indigenous, and communities of color, trans and gender-nonconforming communities, and single mothers or caregivers. FEAST also gives preference to rural communities, and those who haven't done FEAST in the past two years.
More information about both programs is also available here. See flyers for both programs in English and Spanish below.
---