|
Metro Announcements Posts
Offline
Join Oregon Food Bank for our biannual "Allies for Equity Summit" on October 20, 2022.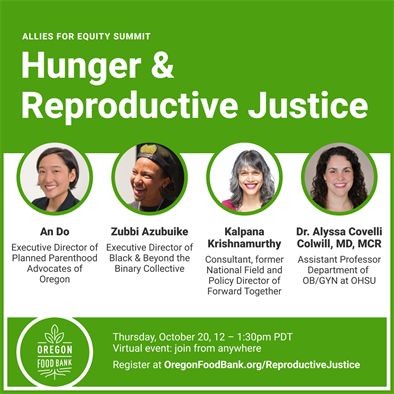 This event is part of Oregon Food Bank's process of learning by creating space for dialogue among a panel of experts and with our community. We also understand the evidence that unequivocally shows hunger and poverty as outcomes of a lack of access to reproductive healthcare and rights.
On the surface, we might think of reproductive justice and food justice as disconnected. But join our panel of health experts, advocates and community leaders as we dig beneath the surface. There we will find the…
Read more...
---
Offline
New workshop from the Network Equity and Racial Justice Team!
Building on learning from Starting with the Self, this workshop will focus on connecting our personal narrative to the larger social structures that shape our experiences. In moving from self to structure, we will focus on understanding the ways that social and economic structures lead to hunger. We will also review key terms and their definitions related to social inequities and oppression.
*note: There is no requirement to have completed the Starting with the Self training prior to this one*
Read more...
---
---