|
Hunger & Reproductive Justice
Published
on
October 14, 2022
| 120 views
Join Oregon Food Bank for our biannual "Allies for Equity Summit" on October 20, 2022.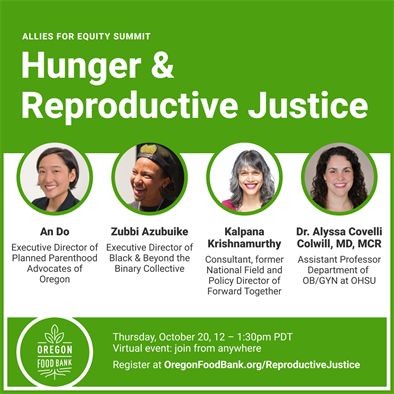 This event is part of Oregon Food Bank's process of learning by creating space for dialogue among a panel of experts and with our community. We also understand the evidence that unequivocally shows hunger and poverty as outcomes of a lack of access to reproductive healthcare and rights.
On the surface, we might think of reproductive justice and food justice as disconnected. But join our panel of health experts, advocates and community leaders as we dig beneath the surface. There we will find the bedrock realities of poverty and inequity which play out in our bodies, lives and communities. This discussion will grow our understanding of systemic exclusion in healthcare, policy and culture. It will illuminate opportunities to take action to protect ourselves, families and communities from current attacks on our bodily autonomy, dignity and wellbeing. And it will inspire us with a vision of healthy and thriving communities.
We look forward to being in community with you and having this vital conversation.
Participe con Oregon Food Bank en nuestra "Allies for Equity Summit" (Cumbre de aliados por la equidad) el 20 de octubre de 2022. Esta se lleva a cabo dos veces al año.
Este evento es parte del proceso de aprendizaje de Oregon Food Bank en donde abrimos un espacio de diálogo entre un panel de expertas y expertos junto con nuestra comunidad. También, entendemos la evidencia que muestra, sin duda, que el hambre y la pobreza son el resultado de la falta de acceso a los servicios de salud y los derechos reproductivos.
Si lo vemos de forma superficial, podríamos pensar que la justicia reproductiva y la justicia alimentaria están relacionadas. Pero, únase a nuestro panel de expertos y expertas de la salud, defensores, y líderes de la comunidad en un análisis profundo que nos llevará más allá de la superficie. Entonces encontraremos la realidad de los fundamentos de la pobreza y la desigualdad que se transmiten a nuestros cuerpos, nuestras vidas y nuestras comunidades. Esta conversación mejorará nuestra comprensión de la exclusión sistémica en el cuidado de la salud, las políticas y la cultura. Además, se mostrarán las oportunidades de acción que tenemos para protegernos, a nuestras familias y a nuestras comunidades de los ataques contra nuestra autonomía corporal, nuestra dignidad y nuestro bienestar. Esto nos inspirará al darnos una visión de cómo son las comunidades saludables y prósperas.
Esperamos con ansias estar con usted y tener esta conversación tan esencial.
---