Equity and Racial Justice
Equity and Racial Justice
Welcome to the Equity and Racial Justice page. Here you will find links to resources and important updates.
Offline
An outline of the Justice, Equity, Diversity, and Inclusion competencies and practices that will increase equity within organizations in our network.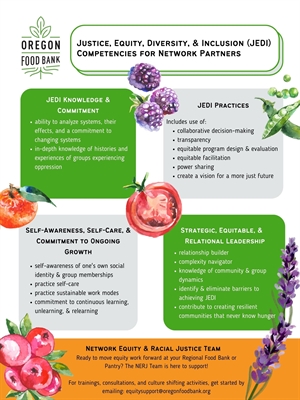 This flyer uses the acronym JEDI to mean Justice, Equity, Diversity, and Inclusion. PDF for download is attached below. 
JEDI Knowledge & Commitment

- ability to analyze systems, their effects, and a commitment to changing these systems

- in-depth knowledge of histories and experiences of groups experiencing oppression
JEDI Practices

Includes use of:
- collaborative decision-making
- transparency
- equitable program design & evaluation
-equitable facilitation
-power sharing
-creating…
Read more...
Offline
Training series for October, November, and December of 2022
See flyer below, please spread the word! 
Offline
Session Description:
Busy pantries can have a frantic energy with lots of noise and chaos. Chaotic spaces are counter to what's good for our nervous systems. If we move from chaos to more healing-centered spaces, we can better meet the needs of clients. Begin shifting your physical space from one of chaos to calm. 
Learning Experiences:
Review trauma & how it shapes one's experience of physical spaces 

Learn trauma-informed design principles 

Apply trauma-informed design to…
Read more...
Load More
Links and Resources
This links widget hasn't been set up yet.
---