Meet two of Oregon Food Bank's newest team members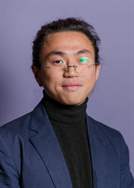 Jackie Liang, Free Food Market Coordinator

Hello everyone! My name is Jackie Liang (he/him), and I was born and raised in Portland, OR. I am a first generation Chinese American, the son of chefs, a brother, a friend, a helper, a lover of recipes, and a believer that everyone deserves to flourish.

Having worked before as a Program Director for a Summer Food Service Program in Clackamas, I know firsthand the amazing work that our Partners accomplish in fostering meaningful relationships and nourishing communities. As such, I am thrilled to be joining the Oregon Food Bank as the Metro Free Food Market Coordinator, and wish to thank you all for your tireless commitment throughout the years.

As we continue building upon our vital work towards ending hunger, I look forward to getting a chance to know every one of you in the coming weeks -- especially our Free Food Market Partners! Feel free to reach out first in the coming days as it would be my pleasure to hear from you, and please know that I strive to serve as a resource for you all.

Thank you, again, for all that you do to advance our Oregon Food Bank mission.

You can contact Jackie via email at jliang@oregonfoodbank.org, or via phone at his office number at 503-334-4536
.
Morgan Joyner, Reporting Coordinator

Hi, my name is Morgan Joyner (my pronouns are they/them). I'm very excited to be supporting the OFB statewide network as the new Reporting Coordinator! I'm a lifelong Portlander who loves the outdoors, cooking, gardening, ceramics, and spending time with my quarantine kitten. I've been involved in various types of food systems work in the Portland-metro area throughout my career, including school-based food and garden education, community outreach, academic research, and supporting a local Indigenous food sovereignty program. My educational background is in community health and macro social work, with a particular focus on food, health, and educational equity.
I'm so happy to be joining OFB and look forward to working with you all!