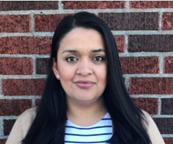 Please welcome Glenda Quezada, our newest Food Assistance Network Strategist. Glenda will be supporting our Washington County partners in a temporary capacity - we're working internally to ensure her position becomes full time! Glenda's hours are Wed-Fri and you can reach her at gquezada@oregonfoodbank.org.
HOLA! Mi nombre es
Glenda
Quezada (she, her). I am beyond excited to be joining the Oregon Food Bank as the Food Assistance Network Strategist. I moved from Guatemala at a young age and have lived in the Cedar Mill area ever since. I love the Northwest and could never see myself living anywhere else, but I will always be "Chapina" (Guatemalan) at heart.
Growing up in a system where there was no addressing of public health issues and oppression is what led me to become interested in social justice and equity work at an early age. The way I help address those issues in our community is through doing social work. Providing the community with basic human rights, healthcare, food, racial injustice, among other things. My first experience of social work came while working at the Essential Health Clinic as a clinic manager, providing emergency healthcare and chronic illness services to the homeless, farmworkers, and undocumented community. I fell in love with the work, the population served, and the services provided. My grassroots work only grew from there, I went on to fund the first national Latina Breastfeeding Coalition, an organization that sought to support Latinx parents in the state of Oregon through education, advocacy, and support. Breastfeeding Counselor. I later became the Director of Programs for the Oregon Latino Health Coalition where we passed Senate Bill 558. This bill provides health care access to undocumented children 18 years of age and under that live in Oregon. My lived experience is the motivation in the work I do in the community.
I have a bachelor's in Social and Behavior Studies from George Fox University. I am also a Certified Community Health Worker, Certified Community Health Worker Supervisor, Certified Infant Massage Instructor. I have also been a board member for Albina Head Start since 2014 and a board member to Oregon Inter-Tribal Breastfeeding Coalition. In the past, I served as a National Breastfeeding Latina Leader, a National Association of Professional support worker, Peer Lactation Support to support specialists. In 2016, I participated in the First Food Racial Equity Cohort that catalyzes community, government, and other institutions to dismantle structural racial inequity and create equitable outcomes for all. Most recently I participated in the Washington County Civic Leaders Program.
My mission in life is to address the social determinants of health and work collectively with other community leaders to provide optimal health and resources to the underserved and unserved community.
I have been married for 15 years and have three beautiful, funny, and vivacious girls. I love hiking, going to the beach with family and friends, and trying new ethnic foods.