|
Temperature control training session October 18, 2022
Temperature control keeps food safer by limiting microbial growth. Understanding the danger zone, and using tools to measure food temperature are important skills for every food handler. Join us for a virtual training to build these skills.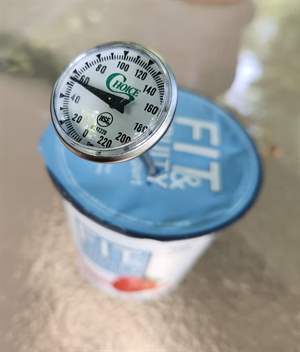 Let's break this down. Food is energy. The process to convert one to the other involves our teeth, enzymes, and bacteria breaking the plant, animal or cupcake back down into chemicals that our cells are programmed to utilize. Several types of bacteria are a vital part of our normal healthy digestive system and they like to eat what we like to eat. However, outside our bodies the same bacteria along with countless microbes (a mix of bacteria, fungus and virus that are all too small to see with our eyes) are living and consuming the plant and animal material everywhere in the world. The few microbes that cause us to become ill are called pathogens and can be found naturally around us. Pathogens grow well under certain temperatures on particular surfaces. Thanks to science, we know that pathogens do not grow below 41°F or above 130°F, so the span between these two temperatures is called the danger zone in food safety. Think of the danger zone as a pathogen grow zone – the more time here, the more pathogens can multiply. The only way we know if food is in the danger zone is by using a calibrated thermometer to measure the temperature. Ensuring the food we distribute is safe to consume is integral to our mission. Food safety is equity work.
To learn more attend our virtual training on food temperature October 18, 11am -12pm.
We will take a deeper dive into the tools needed to monitor temperature, including a thermometer calibration live demonstration.
add to your Google / Outlook / Yahoo calendar, or join via this Zoom Link 
---