Wondering what might be included in that "Alternative Flour" box?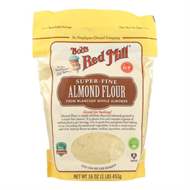 Alternate Flour (Product Ref# 08040) is almost always one of 3 products - Rice Flour, Sorghum Flour or Almond Flour and always non-wheat based. Wheat-based flours will be put into Product Ref# 02750. 
Alternate Flours are a great-choice for our gluten-free friends and some specialty cooking and baking. Important Food Safety note- we are not a certified Gluten-Free facility, so items should not be advertised as Gluten Free for those with severe allergies. 
Most of the time, the flour in this Product Ref is repacked, meaning we receive it in 50 pound plus bags and repack into 2 pound bags. So if you're wondering how many bags to a box, divide the case weight by 2 and that will give the approximate number of bags. 
Recipes:
Rice Flour 
Bai Tang Gao (Chinese steamed rice cake)
Sorghum Flour
All About Sorghum Flour from Bob's Red Mill
Almond Flour
Tarta de Santiago (Spanish Almond Cake)