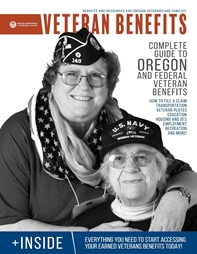 Do you have clients who have served in the military? Hint: the answer is probably yes. 
The Oregon Department of Veteran's Affairs is asking for your help in ensuring Veterans and their family members are informed of their potential earned benefits. With nearly 300,000 Veterans in the state of Oregon and two thirds of them not engaging with the VA, and over 53% over the age of 65, the need is great. 
Veterans and their spouses or dependents, are not always aware of the Veterans' Affairs (VA) benefits they may be entitled to, which could include: 
Burial benefits for veterans and their spouses
Caregiver benefits for family caregivers providing personal care services to disabled veterans in their own home
Health care provided by the Veterans Health Administration
Tax-free pension benefits for wartime veterans and survivors with limited or no income or high medical expenses
Tax-free compensation benefits for veterans with an injury or illness incurred during, made worse by, or as a direct result of military service
Records and military service medals replacement
If you would like free copies of a brochure detailing information on veteran benefits to put in food boxes or share with clients, send a quantity of brochures, mailing address and your contact info to Mark Newell, Veteran Volunteer Coordinator, at mark.newell@state.or.us. Mark can also be reached by phone at 503-373-2057
(office) and 971-720-8911
(cell). See a sample brochure below.