|
OFB Youth Ambassador Internship Summer 2022
Published
on
March 27, 2022
| 361 views
OFB is hiring for a paid summer intern to help relaunch 3 Summer Free Food Markets in Portland Parks. Apply NOW!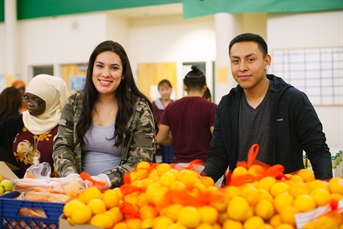 Do you know an enrolled full or part-time college student looking for an exciting job addressing summer food security? Check out this PAID internship for Summer 2022, helping to relaunch three Summer Free Food Markets, working to address child and family food access during the summer months.
The Youth Ambassador will work alongside OFB's Child Hunger Program Manager to coordinate the logistics and operations of three weekly Summer Free Food Markets in partnership with Portland Parks & Recreation Summer Meals programs. Free Food Market is a free, shopping-style food distribution program of Oregon Food Bank that aims to distribute fresh produce and pantry staples to low-income individuals and families. The Ambassador will promote the markets through in-person and online outreach efforts, lead the weekly distribution of food, and train volunteers onsite. They will be responsible for coordinating weekly logistics, including supply coordination, placing weekly food orders, and collecting and compiling program data. Work will be approximately 50/50 remote (from home/office, on a computer) and in-person (at distribution sites working with community). 
Details: 
Applicant must be enrolled full or part-time in college (can be an incoming freshman or graduate student transitioning from undergraduate to graduate program)
Timeline: June 21, 2022 and ends on August 26, 2022, with option to add an additional 1-2 weeks on either side if available. This includes 5 days paid vacation. 
Hourly rate is $17.00-21.50 per hour DOE for this non-exempt internship (note: the standard rate of $15 per hour may appear on the No Kid Hungry website, but OFB is committed to paying at a higher, livable wage).
The Ambassador will be an temporary, non-exempt employee of Oregon Food Bank, however, the initial application process is through No Kid Hungry. 
The Ambassador will need to have a valid driver's license. Personal vehicle is not required, as they will have access to OFB-owned vehicle for work-related driving. 
Multilingual skills in Spanish, Russian, and/or Cantonese at conversational speaking fluency preferred.
Apply ASAP. Rolling interview process. Application closes April 22nd, 2022. 

Interested applicants should apply online at http://nokidhungry.org/youth-ambassadors. See the full job description attached. 
---