Meet Kelsey, our newest Food Assistance Network Strategist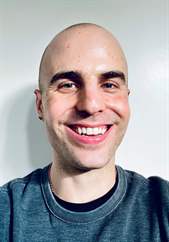 My name is Kelsey Hill (he/they), and I'm thrilled to be joining this team and to have the opportunity to help build equity and sustainability into our regional food system. I've lived here just long enough (Fall '14) I'm comfortable calling myself a Portlander, and have lived and worked all over this city. I'm excited to get to know each of you and meet more of our community partners.
Food, sustainability, and equity have been central to my work thus far, and I can't think of a better next step than working with Oregon Food Bank. Personally, I've been invested in nutrition, sustainable procurement, and eating a plant-based diet for a while, and I'm so excited to have a job centered around my passions. I grew up in a military family, and we moved around quite a lot - I was born in Winter Harbor, Maine, across Bar Harbor from Acadia National Park. That place is a real gem, along with other Portland. We moved around a lot, and my favorite places were Guam and Utah. I love to travel, hike - always looking for new outdoor adventures! - and binge-watch documentaries and anime. I have a big, diverse family spread out all over the country, and I love it.
Prior to OFB, I most recently provided distribution support to the Northeast Emergency Food Bank and programmatic support to the Black Resilience Fund. Prior to that, I worked in solid waste policy with Metro, and both solid waste and sustainable food policy with Portland State. Additionally, I've worked with veterans, folks with developmental disabilities, and those suffering from mental illness and addiction, including my two years in AmeriCorps. I received an undergraduate degree in Cultural Anthropology with a minor in Sustainability Studies, and went on to receive graduate degrees in Public Administration and Public Policy, with a certificate in Sustainability from Portland State.  A few interesting facts about me: my middle name is Hollywood, I have six brothers and sisters, and I love to read fantasy/sci-fi. Excited to learn more about everyone else, and carry out our vital work.
You can reach Kelsey at khill@oregonfoodbank.org.