|
Meet Our Newest Team Member!
Meet Diana, our Metro Services Program Assistant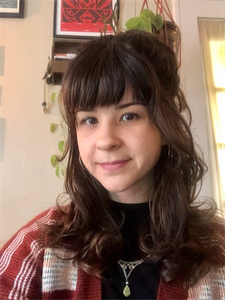 Hello Partners! My name is Diana Powers and I use she/her/hers pronouns. I am the new Metro Services Program Assistant at Oregon Food Bank and I'm excited to meet all of the Partner Agencies that make this work possible! 
I am from inner city Atlanta and grew up on a small community land trust that is a pocket of nature embedded in the middle of the urban center. Living in a strongly diverse city, my personal history is centered around creating unity amongst people facing challenges to foster strong community creatively and sustainably. I am a passionate advocate and activist for social and environmental justice that prioritizes racial and socio-economic equity. I'm driven by the value that communities are strengthened and resilient when diversity is honored and justice is prioritized. I believe in holding community at the center of our decisions and actions. I'm eager to jump into this role at Oregon Food Bank to support you all while we work towards ending hunger and it's root causes.
I spent time in Ohio, Florida and Georgia before arriving in Portland four years ago to complete my degree in Community Development from the school of Urban & Public Affairs at Portland State. I have many years of involvement with community based organizations, non-profits and grassroots efforts using the power of community for connection and resilience. 
In my spare time I enjoy immersing myself in nature, home cooking southern food with a vegan twist to share with friends and neighbors, participating in mission-driven art and supporting local musicians. As Partner Agencies, I know how valuable your efforts are in uplifting and empowering communities and I appreciate your dedication and hard work.  I'm very much looking forward to working alongside you all. Please feel free to reach out and say hi!
---