|
Double Up Ambassador Program
Published
on
January 25, 2022
| 369 views
Applications are now being accepted for the Double Up Ambassador Program!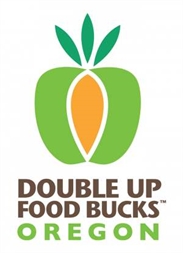 Double Up Food Bucks Oregon (DUFB) is a program that earns shoppers more SNAP dollars to spend on fruits and vegetables when they use their Oregon Trail Card at participating grocery stores, corner stores, and farmers markets in the state. 
To strengthen the impact of DUFB on communities who are disproportionately impacted by hunger and food insecurity, the Oregon Food Bank launched the Double Up Ambassador Program. The focus of the program is to create a cohort of community leaders that will provide direct outreach and education about DUFB to SNAP recipients and inform program decisions to lift barriers to participation and improve the program's overall accessibility.
To learn more about the program, click here.
Applications are being accepted on a rolling basis. Applications are available in English and Spanish.
Reach out to Mason Durfee (DUFB Coordinator) with any questions: mdurfee@oregonfoodbank.org
Anyone who is a resident of Oregon is eligible to apply, but we are prioritizing folks who reside in the following areas:
Astoria/Clatsop County
Portland/Multnomah County
Corvallis/Benton-Linn County
Fossil/Wheeler County
John Day/Grant County
Medford/Jackson County
Bend/Deschutes County
Tillamook/Tillamook County
---