|
Network Equity & Racial Justice Team has some fancy new competencies!
Published
on
September 22, 2022
| 123 views
An outline of the Justice, Equity, Diversity, and Inclusion competencies and practices that will increase equity within organizations in our network.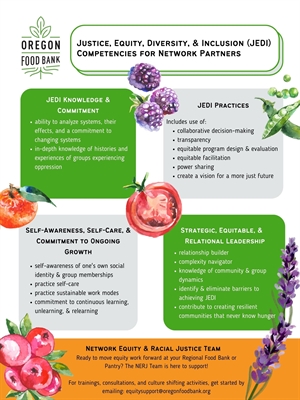 This flyer uses the acronym JEDI to mean Justice, Equity, Diversity, and Inclusion. PDF for download is attached below. 
JEDI Knowledge & Commitment

- ability to analyze systems, their effects, and a commitment to changing these systems

- in-depth knowledge of histories and experiences of groups experiencing oppression
JEDI Practices

Includes use of:
- collaborative decision-making
- transparency
- equitable program design & evaluation
-equitable facilitation
-power sharing
-creating a vision for a more just future
Self-Awareness, Self-Care, & Commitment to Ongoing Growth

- self-awareness of one's own social location, identity, and group memberships
- practicing self-care
- practicing sustainable work modes
- commitment to continuous learning, unlearning, and relearning  
Strategic, Equitable, & Relational Leadership

- relationship builder
- complexity navigator
- knowledge of community & group dynamics
-identifying and eliminating barriers to achieving JEDI
-creating resilient communities that never know hunger


Image description: a flyer with four boxes, two green, two grey. Fruits and lavender accents. 
---