What is FEAST?
Oregon Food Bank's Food, Education, Agriculture, Solutions Together (FEAST) is a community organizing process that brings people together to build more just and resilient local food systems through community conversations and project implementation. 
The FEAST model has been used across the country to catalyze local food system improvement, and we are happy to provide FEAST materials to the public. We also have a grant to support teams organizing FEAST in Oregon and SW Washington - see below for more info.
FEAST Goals
Organize and move communities into action towards more just and resilient food systems.
Build food security through community identified and implemented solutions.
Improve access to nutrient dense local foods for all community members.
Incorporate advocacy, community organizing, and political education into FEAST Leadership Team support and community conversations.
2022-23 FEAST Support Fund Recipients
UTOPIA PDX received an $8,500 grant to fiscally sponsor FEAST with queer and trans Pacific Islanders in Portland Metro and SW Washington.
Coalicion Fortaleza and Rogue Food Unites are using a $9,000 FEAST grant to organize with the Latine community in Phoenix and Talent, OR.
A team of folks from Growing Ancestral Roots, Old Mill Center, and OSU received a $9,000 FEAST grant to organize with BIPOC growers and community in Corvallis, OR.
High Desert Food and Farm Alliance received a $7,000 grant to fiscally sponsor a team of farmers, public health workers, and food bankers organizing FEAST in Madras, OR.
Burns Paiute Tribe received an $8,500 grant to organize FEAST conversations with their tribe and the broader Burns community. 
A team of community members and staff from Forest Grove Foundation, Open Door, and Centro Cultural received an $8,000 grant to fiscally sponsor FEAST in Forest Grove, OR.
Students from the Student Sustainability Center, Many Nations Longhouse, Lily Reynolds Parker Black Cultural Center, and LGBTQ+ Essential Needs center are using a $3,000 grant to organize FEAST conversations on campus with UO students.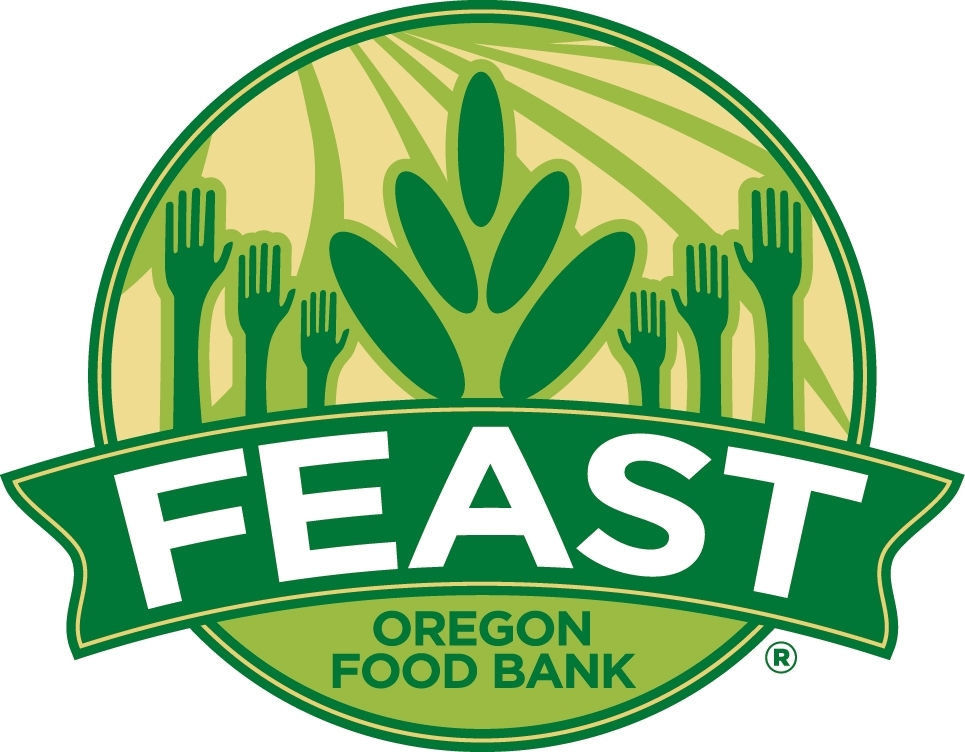 Get FEAST Support
Oregon Food Bank supports community members interested in planning a FEAST event. Contact Adriana Cvitkovic (she/her) at acvitkovic@oregonfoodbank.org or 971.223.3359
See below for the steps usually involved in FEAST, or download our FEAST Manual.
STEP1: PLANNING
We provide a FEAST Organizing Manual and attend planning meetings with the FEAST Leadership Team. The Leadership Team is responsible for planning dates, times, and the most responsive way to get community input.
STEP 4: SUSTAINING
By focusing on community-derived ideas for food systems improvements, coaching community members to implement improvements themselves and encouraging the deeper dive to create more sophisticated food systems projects, communities are set up to sustain these efforts for the long-term.
FEAST Support Fund
Oregon Food Bank's FEAST Support Fund (FSF) is a grant program to support local leadership teams as they work on FEAST events and projects. 
The FSF will provide grantee communities with outreach and organizing support, the FEAST conversation agenda, event facilitation, technical assistance, training opportunities and a mini-grant of up to $9,000.
Grantee Eligibility
You must have a team of at least three people to apply for FEAST Support Funds. Open to communities in Oregon and Clark County, Washington with access to a 501c3 or fiscal sponsorship. Preference will be given to Black, Indigenous, and communities of color, immigrant and refugee communities, LGBTQ+ communities, and rural communities.
Grant Award
Grants of up to $9,000 will be awarded to cover Leadership Team barrier removal (<$2,000), FEAST events (<$2,000) and projects identified through FEAST conversations (<$5,000). Expenses may include material or infrastructure costs, contract services and event expenses. Oregon Food Bank will supply additional funds for translation and interpretation as needed. Funding cannot be used to fund existing projects. If you have questions, please contact Adriana (she/her) (acvitkovic@oregonfoodbank.org or 971-223-3359).
Grant Deliverables:
Leadership Team participation in OFB-led FEAST webinars.
FEAST event(s), accessible to the community.
Mid-term grant report with budget & final grant report with tracked expenses.
Quarterly check-ins.
Food system project(s).
Apply Here
Application will open July 1, 2023 and close September 15, 2023. Funds will be granted October 15, 2023.
Stay Updated
OFB Community Food Systems Newsletter
An e-newsletter for community food systems advocates across the state. If you've participated in FEAST and/or want to hear about food system news, jobs, and funding sources, this is for you.
JOIN NOW
---