REACHing Us: 411 on Vaccines, Flu, COVID19 & Resources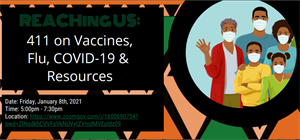 In collaboration with OHA, Multnomah County Public Health, and Department of County Human Services, District 2 is sponsoring an event in the African American/Black/African communities to bring COVID-19 awareness, safety and health education, Vaccination readiness conversations, Vaccination education/Q&A, and Resource sharing via a culturally affirming community engagement forum January 8, 2021.
The African-American community has a tremendous trauma history connected to medicinal mistreatment, being used as test subjects without consent, and with slavery years of abuse in the name of science. One example of this with individuals still receiving benefits from the resulting lawsuit today is the Tuskegee Experiment: https://www.cdc.gov/tuskegee/timeline.htm
The hope in this partnership is to help with assuaging concerns about the vaccination, creating open forums for transparent communication and building trust. The COVID-19 pandemic has hit BIPOC communities hardest and real effort is needed to help reduce the spread and trajectory of the virus in Multnomah County. Please see the flyer and share within your networks.