Join a cohort of community leaders interested in supporting the growth of the Double Up Food Bucks Oregon Program!
About the Ambassador Program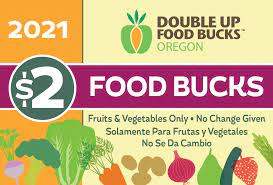 Double up Food Bucks Oregon (DUFB) is a program that earns shoppers more SNAP dollars to spend on fruits and vegetables when they use their Oregon Trail Card at participating grocery stores, corner stores, and farmers markets in the state. To strengthen the impact of DUFB on communities who are disproportionately impacted by hunger and food insecurity, the Oregon Food Bank is launching the Double Up Ambassador Program. The focus of the program is to create a cohort of community leaders that will provide direct outreach and education about DUFB to SNAP recipients and inform program decisions to lift barriers to participation and improve the program's overall accessibility.
Ambassador Program Details
The cohort will be comprised of 10 ambassadors
Participants will be asked to commit to a project that they co-design with Oregon Food Bank staff focused on DUFB outreach, education, and overall program accessibility
Each ambassador will receive a stipend to support program participation
Oregon Food Bank will provide training, skill development, and create a supportive cohort community. Training sessions will be focused on leadership development.
Programming will be remote (over Zoom) for the foreseeable future. Any in-person gatherings will follow all state and county health regulations related to safety 
Ambassador activities may include:
Supporting partnership development of DUFB outlets through the recruitment, outreach, and selection of culturally-specific and/or markets, farms, and grocers led by Black, Indigenous, and People of Color.
Support outreach strategies and activities to customers by establishing best methods for outreach, identifying preferred language translation, building relationships, participating in direct marketing activities, and facilitating presentations with community organizations.
Support training of farmer's market staff, grocers, and CSAs to implement and outreach the DUFB program. 
Collect and provide feedback from DUFB program participants for the purpose of evaluation, program improvement, and design.
Eligibility Guidelines
Ambassadors must reside in Oregon be 18 years of age or older
We recognized the financial impacts structural inequities and discrimination have on members of our communities primarily based on race and gender, so Oregon Food Bank is prioritizing the following equity constituencies in the Ambassador selection process:

People and communities of color
People and communities who are recent immigrants and refugees
People who are single moms/caregivers - Note on language: understanding the infinite number of gender identities that exist - and pushing back on dominant binary constructions of gender, we choose to identify the specific challenges facing single women who are moms/caregivers. We affirm that gender identity is porous. And we also lift the specific impacts of traditional binary gender roles and patriarchy.
People and communities who are TGNC (trans and gender non-conforming)
If not a member of our equity constituencies, currently active in and responsible for equity work
Committed to championing equity efforts within their personal lives, workplace, and community.
Will add representation of diverse perspectives to cohort

We are seeking a well-balanced cohort diverse in gender, race/ethnicity, age, leadership experience, and location
Commit to full participation in program trainings, events, and activities

Application instructions
Applications are being accepted on a rolling basis. To submit an application visit http://bit.ly/mxcplqr, or for a Spanish version visit: http://bit.ly/3wehysx.
Support or Questions
If you have any questions or need support with any aspects of your application contact:
Mason Durfee (they/them/theirs) | DUFB Coordinator | OREGON FOOD BANK | 971.223.3358
| mdurfee@oregonfoodbank.org